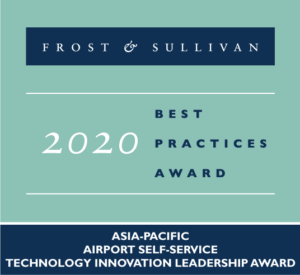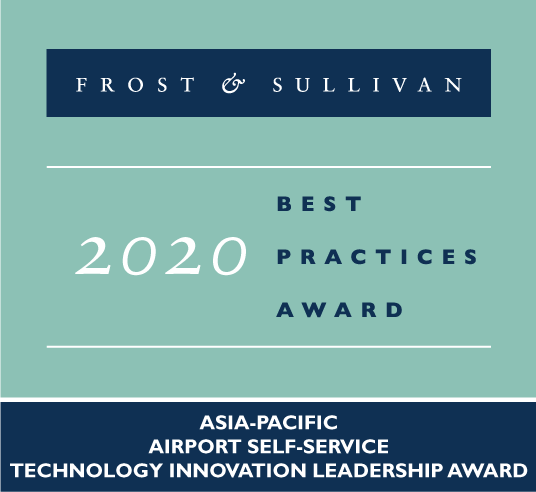 8 December 2020 – Elenium Automation, the technology that moves you faster and safer, has been recognised as a global leader in the airport self-service market, receiving Frost & Sullivan's Best Practices Technology Innovation Leadership Award.
Announced today at the FTE Virtual Expo, Frost & Sullivan awards recognise companies at the forefront of their respective industries that are continually innovating and creating new products and solutions that serve ever-evolving customer needs.
Elenium designs, develops, and manufactures self-service and automation technologies incorporating voice control and biometrics to reduce airport passenger congestion by up to 60 percent. This year, Elenium developed a touchless vital sign detection solution to reassure passengers and ensure staff safety during and after the COVID-19 pandemic. Elenium is installing check-in kiosks and bag drops for airlines and airports across five continents; most recently, Etihad Airways in Abu Dhabi and Avalon Airport in Australia have adopted its touchless and vital sign detection capabilities.
Frost & Sullivan's due diligence research addresses three key strategic imperatives that impact the airline and airport industry: geopolitical chaos, disruptive technologies, and internal challenges.
Elenium performed impessively against all three measures. Frost & Sullivan highlights the company's advancements in the future of contactless self-service systems, commitment to innovation, overall customer impact and operational efficiency, and success in becoming a much-needed solution amid a global pandemic.
Steven Lopez, Best Practices Research Analyst at Frost & Sullivan, said: "Elenium's systems are highly intuitive, capable of working in both light and dark environments, and importantly, provide passengers with limited mobility a seamless airport experience."
"The robust touchless technology behind Elenium's systems became and remains a prominent innovation in the middle of the COVID-19 pandemic," continued Lopez. "Elenium listened to the feedback from airports regarding the virus and immediately focused on providing solutions that would help stop the spread in airports and identify persons who could potentially show flu-like temperatures."
Aaron Hornlimann, CEO and Co-founder at Elenium Automation, said: "Elenium Automation is proud to be recognised by Frost & Sullivan for setting a benchmark in the automation of airports and passenger experience. Since starting the company less than five years ago, we have always been focused on improving the passenger experience. In response to the COVID-19 crisis, we combined the focus on passenger experience with finding ways to make the world safer by enhancing various customer-facing devices with touchless capability and evolving them into health screening points using contactless vital sign detection. We believe this will play a key role in restoring people's confidence to travel and get them flying again."