Want to learn more about the VYGR Experience?
Download the latest collateral to learn more about our full suite of self service solutions.
Download
Thank you for joining our team on booth #Z2.4010 at Passenger Terminal Expo 2022 from 15-17 June. We hope you had a fantastic experience.
This year, we exhibited our streamline passenger experience that uses secure airport-grade biometrics and voice recognition to take the passenger seamlessly from check-in to boarding.
VYGR (short for Voyager) is Elenium's suite of innovative self-service solutions that provide a quicker and more convenient experience for travellers. The end-to-end solution moves passengers seamlessly from the very start of their journey to their final destination. Voyager offers a contactless journey powered by secure, airport-grade biometrics. Combining speed and ease of use, Voyager facilitates frictionless travel experiences, giving passengers more time to relax, explore, and enjoy their journey.
Passengers can check in and enrol using secure biometrics on their mobile device

Passengers can print bag tags, pay for luggage, check in and more using secure facial recognition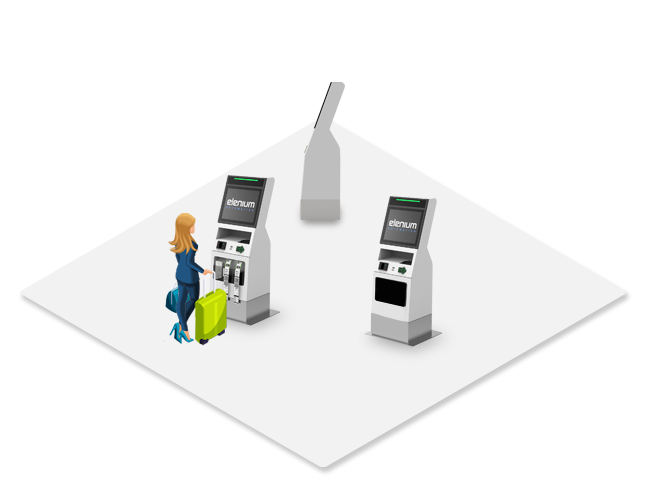 The self bag drops provides a seamless 3-second luggage drop experience

Virtual shopping assistance increases ancillary revenue, whilst delivering an enjoyable experience.

A fast, easy and more convenient boarding experience for passengers without the need of a boarding pass.

VYGR Funding Model
Helping airports benefit from innovative technology without the capital risk
The VYGR Funding Model offers airports a flexible and risk-free funding solution to help airports modernise its infrastructure to optimise the passenger flow.
Offering upside and downside protection, the VYGR Funding Model provides greater funding flexibility for all airports.
Find out more
In collaboration with