Products
Flight Deck
Flight Deck provides full monitoring and management capabilities for your self-service fleet of devices
Flight Deck provides full monitoring and management capabilities for your self-service fleet of devices, including kiosks, bag drops and boarding gates. It is delivered as a web portal over a HTTPS connection providing remote monitoring capability. It also provides text message and email alerts to users enabling prompt attention to customer queries, replenishment of consumables and on-going maintenance. This reduces device down-time and improves airport passenger processing efficiency. 
Flight Deck's architecture has been designed to automatically scale as more devices are added without impacting performance and provides users ease of management by enabling multiple views and permissions. 
Designed and developed using microservice architecture, Flight Deck works with Elenium and third-party self-service products and a range of automation applications providing users with a single interface to manage their airport automation devices.
Summary of all devices and their current status (battery power, components, network status and etc.);
Real time monitoring of devices both in group view and single device view;
Filter devices to easily identify devices by characteristic;
Open, close, power cycle and test devices and their components (including printers) by individual device or groups of devices;
Generating reports for analytics and billing purposes;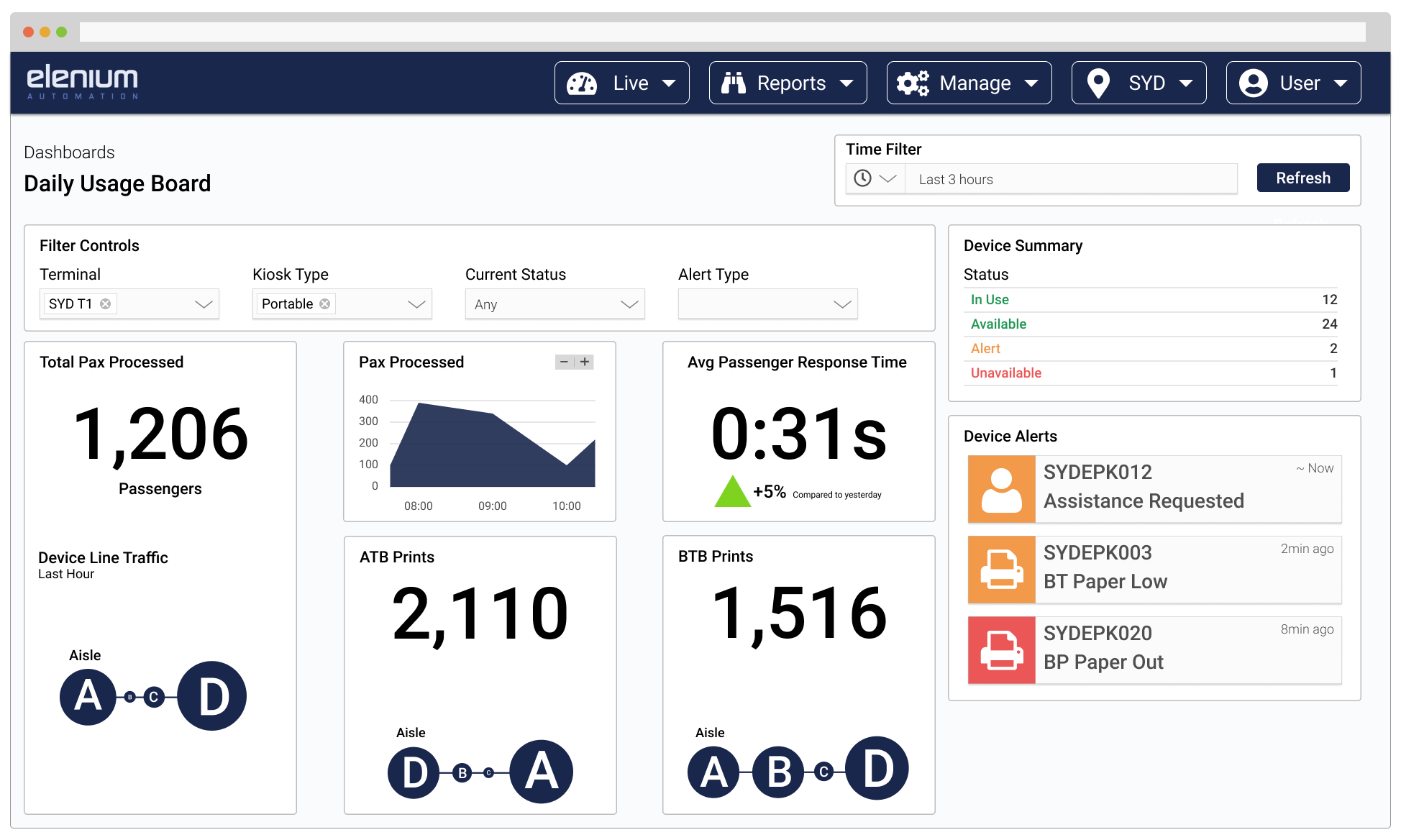 REAL TIME MONITORING
Real time device monitoring for your self-service fleet

ANALYTICS & REPORTING
Pre-built dynamic drilldown filters and reporting templates.

CENTRALISED MANAGEMENT
Manage and control all devices and user access control via a web-based console.

POWERED BY THE CLOUD
No software installation required, accessible from a wide range of devices, highly available, scalable and secure.
Customer Stories
tried and tested customer experiences
Learn More
To learn more about this product, download the brochure below or contact us.
Download Brochure